Ever rising giants of casual menswear, ONETrueSaxon have unleashed their very own brand of classic styling on the world with their first ever stand alone store such important fashion moments need a VIP launch party, and October were happy to supply the T-s (still a few of these limited edition lovelies left, check out the phone number below!) Tucked away in a sleepy corner of Nottingham, The Casual Tailor will act as a flagship for the brand while housing other esteemed friends such as Berghaus, Hunter, Clerk & Teller, Oipolloi and Brady Bags. ..

For those of us prepared to hunt for premium quality garms, they have hidden this little gem down a quiet side street, shying away from the bright lights of the city centre. In the style of an original gentleman's outfitters with buzzer entry only, this destination store is being retained for the most esteemed connoisseurs of British casualwear and perhaps the odd less refined scoundrel.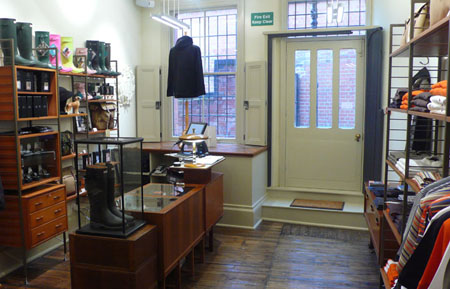 Once inside, the finery on display sits amongst deer heads, weathered wooden cabinets and opulent mirrors. In order to offer the utmost style advice to the discerning ONETrueSaxon punter this esteemed establishment will be manned by the honourable folk behind the brand itself.

Add in antique timepieces and military watches alongside Scottish cashmere scarves, Cheeky Weasel belts and cufflinks and even undergarments from the resplendent Sunspel and your entire wardrobe is complete.

"It's not your normal store but then we're not your normal retailer"

ONETrueSaxon Ltd.
54a High Pavement
The Lace Market
Nottingham. NG1 1HWP +44 115 9859684.
F +44 115 9859678.
Mobile +44 7738 347728
http://www.goodnorth.com/