There are those who are for, and those against, and so we are occasionally asked 'Why do we screenprint on American Apparel T-shirts?
Apart from the great product and ethical provenance, the honest answer is, as always with us, an involvement with the entire story. Not always an easy story we'll admit, perhaps more of a soap story than a fairy tale. What follows is difficult, easier to avoid than confront, and our conclusions are uncertain and open to debate.
Based in LA and founded by Dov Charney in 1989, American Apparel is a vertically integrated company that is one of the biggest T shirt and apparel manufacturers in North America, at one point being one of the 500 fastest growing companies in the US
That said, It hasn't made any profit since 2009, filed for bankruptcy in 2015, then in 2016 exited bankruptcy after re working its finances and booting out its ex CEO and founder. And so the wild financial shenanigans begin, but this is just the tip of the American Apparel iceberg.
Whilst promoting 'made in the USA' goods, with great non sweatshop labour policies and paying well over minimum wages, Mr Charney was accused of sexual harassment on more than one occasion. In addition the entire organization was at times regarded by some as a non- female friendly environment
Moreover, American Apparel advertising campaigns were considered to be highly sexually charged, in a somewhat 'girl next door' and unsettling way (although they were occasionally applauded at least for avoiding the use of our old enemy the airbrush, and the inclusion of natural imperfections)
In furthur twists, American Apparel has used pornographic actors in some of its campaigns, including Lauren Phoenix, Charlotte Stokely, Sasha Grey and Faye Reagan. In fact the Adult entertainment trade magazine Adult Video News said that the American Apparel website is "one of the finer softcore websites going"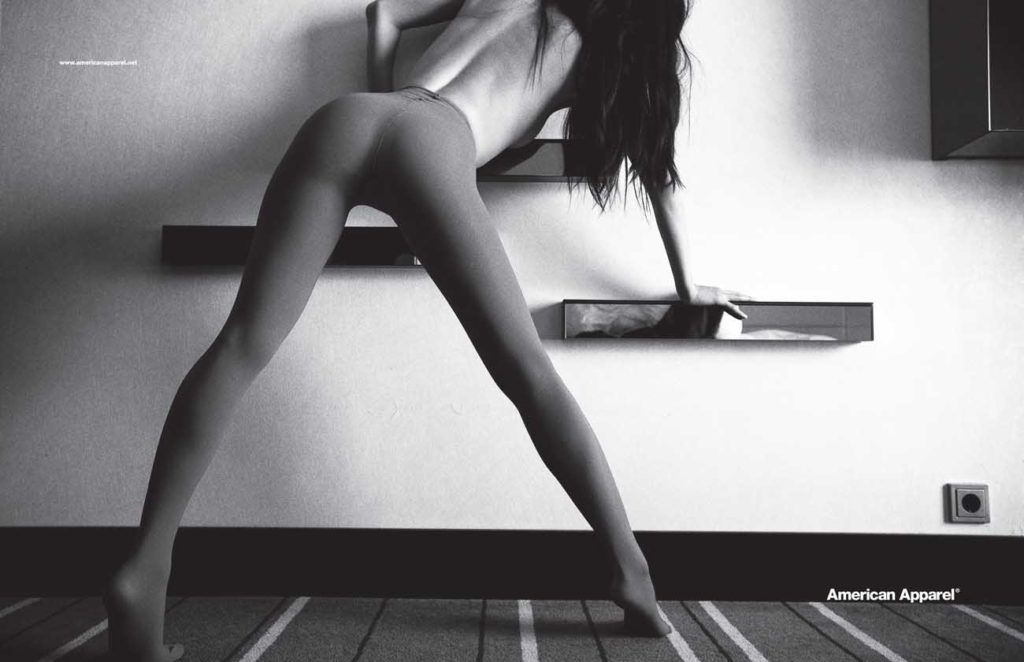 Some of the company's other ads, which feature nudity or sexual themes, have been banned by various advertising authorities. American Apparel came under pressure for example in a 2014 ad for mini-skirts, which featured a model bending over so that her underwear was prominently exposed. In 2013, the company also released an ad in which the model lay on a bed with her feet up in the air without wearing any undies. There was a further ad in which a model posed in a series of photos focused on her lady parts, and in which her face was not seen. The UK Advertising Standards Authority criticized the ad for being "voyeuristic," and "vulnerable." Dodgy ground!
Could it get any worse? Well yes of course it could. All the above is before you get into a $10 million lawsuit with Woody Allen, over billboards in which he was dressed as a Rabbi. Why limit yourself to sexual uproar, when you can get a little religion tension in on the act?
Positives? Apart from the great labour policies and ethical production, there was pro-immigration support with Legalise LA, and pro Gay and Lesbian work with the American Apparel Legalise Gay campaign. Furthermore in 2012 there was the partnership with The Gay and Lesbian Alliance against Defamation, a range of T shirts celebrating LGBT Pride Month, and Isis King becoming AA's first openly transgender model. The list of charitable organizations which American Apparel have championed is also extensive….American Red Cross, New Orleans relief, Justice for Immigrants, Children's Homeless Youth Shelter, the Centre for Human Rights and more.
American Apparel have always had pop culture connections. In 2010 Kanye West in his album My Beautiful Dark Twisted Fantasy for example, where we see the song 'Gorgeous' and its lyric 'I need more drinks and less lights, and that American Apparel girl in just tights' Again, an iffy reference, and the list of celebrity hook ups goes on, but perhaps this would lead us from the real question.
How do we make moral decisions around relationships which contain such positive and negative events and emotions? If there is any bad, do we avoid that connection in spite of the good? For example, do we not buy from Volkswagen or Hugo Boss because of their origins in darker times? Is it just the passage of time that makes this OK?
A great product and ethical manufacturing and employment is not sufficient in our entirely subjective view, to justify questionable practice. But nor perhaps should the greater good be sacrificed for the behaviour of a few men.
It is a difficult conclusion, but we screenprint onto American Apparel T-shirts in support of its 10,000 plus employees, the real people with real lives behind the sensational headlines, those who are so rarely mentioned, and yet those who we do not forget.