T-shirt printers and screen printers sometimes get twitchy and you may even hear a low pitched grumble at times when garment designers provide images that do not take into consideration the desired level of thought or print preparation when the creative juices are flowing. The ordinary business that may just want a cool image on T-shirts or polo shirts and may even require some cutomisation may not be aware of the colour separation problems or dot density issues when printing thin lines onto a course garment. So "Yougraph" has come to the rescue with very cool graphics all print ready for decorating garments.

What is the graphBOX of YOUGRAPH?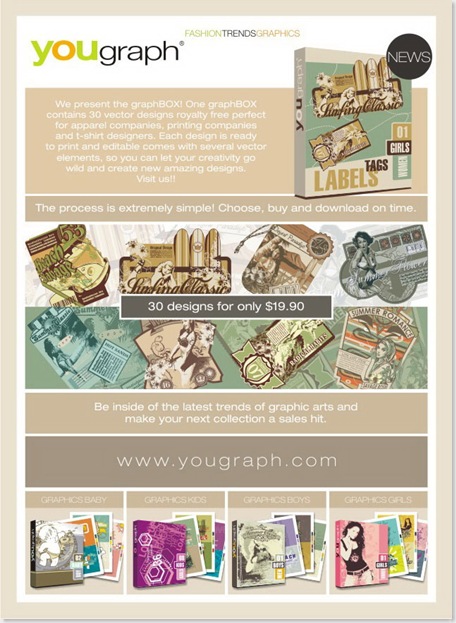 Each graphBOX contains 30 royalty free, vector images developed by the designers of YOUGRAPH especially for the fashion market. The graphs, logos, prints and illustrations in each graphBOX can be resized in any dimension without losing resolution. The images are downloadable files in the extensions (.cdr) of CorelDRAW and (.ai) of Adobe Illustrator.
www.yougraph.com
Visit our main site: www.october.co.uk
t shirt printing, screen printing, embroidery