Garment printed by October for Chateau Roux and photographed by the legendary David Bailey, Speech Debelle graces the pages of January's Vogue magazine wearing her unique 'Speech Carves Paths' grandad tee, designed for her after winning this year's Mercury Music prize. October is a specialist fashion garment printer, working with a wide range of well known and emerging labels to produce innovative clothing. Our aim is to convey the spirit of the brand, while remaining 'off message' and one step ahead of the high street.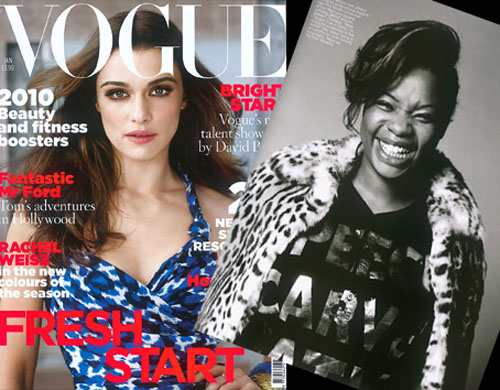 Born out of Soho, Chateau Roux is an independent fashion label inspired by the mix of characters you see every day. Unashamed at being labelled 'different', the label is built on the idea of being totally bespoke and offering something you cannot get anywhere else. Chateau Roux have made their name by offering bespoke cut, printed and distressed garments that are emblazoned with bold and brave prints.
Chateau Roux represent a refined and elegant style but presented in a twisted, seedy and sharp fashion. The popular 'Shotguns in Soho' (SinS) collection is crafted using the brands unique eye for design and a 12-bore shotgun. Taken into the woods by Roux sharp shooters, each garment is shot from distance leaving it hole-ridden, often smoking with small pieces of 'shot' left embedded in the fabric and 100% unique. Each SinS tee stands alone and customers also receive the genuine cartridge used to shoot their garment.
As well as unique distressing techniques, all Chateau Roux tees are cut to best represent their style and printed on a range of fabrics including modal, bamboo and cotton to provide comfort and the beautiful 'I've had this tee for years'feel.
Since the labels launch and the opening of their flagship store at 17 Newburgh Street, London, Chateau Roux have been spotted on the backs of famous folk and splashed across the pages of the national press including features in Vogue, Dazed & Confused, Drapers, FHM, Loaded, The London Paper, London Lite, Notion, Pimp, More, Cosmopolitan, OK, Reveal, Mixmag, Beast, Zoo, Nuts, Stirred Up, More, InStyle and been seen on the likes of Damon Albarn, The Killers, Biffy Clyro, Example, The Streets, Norman Cook aka Fatboy Slim, M.I.A, The Prodigy, The Script, Sugababes, Sadie Frost, Ciara, T4 presenter Jameela Jamil, Elesha Dixon, The Saturdays, Master Shortie, Lady Sovereign, Tim Lovejoy, New Young Pony Club and 2009 Mercury Prize winner Speech Debelle.
Chateau Roux have also designed customised jewellery for renowned shoe designer Gil Carvalho (Madonna, Liz Hurley), US rapper M.I.A and were shortlisted by DJ magazine as one of the best fashion labels of 2009. As well as an established collection of male and female tees, Chateau Roux also produce a range of 100% lamb's wool cardigans, jackets, sweats, hoods, polo shirts, vests, jewellery, accessories and limited edition canvas art.