After this freezing cold winter one thing is crystal clear: a hot summer is in store for us! If you have not only set your sights on the perfect style, but also on the right materials, you are just right at Naketano.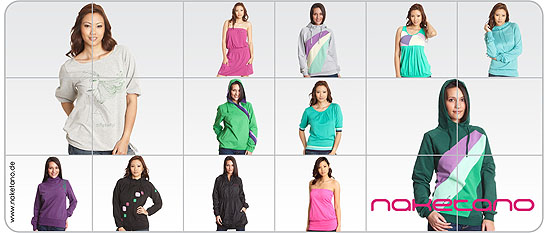 With light summer knitwear Naketano is extending its former collection, providing even more comfort on hot summer days: bamboo is the innovative natural fibre which cools in summer and warms in winter. Compared to cotton, clothing made of bamboo viscose fibre does not crease and can be ironed at a very low temperature. The material does not shrink when washing and is quick to dry.
The creative heads from Naketano in Essen have also worked on the cuts, patterns and colours. Naketano is becoming more and more feminin, featuring a great choice of dresses. Naturally, the "feel good" and individuality factor still have top priority. The new forms, such as A- and O-silhouettes, create a symbiosis of nonchalance and elegance. The same applies for the many female elements – smocking, gathers, box pleats, cording, volants and frills, to name a few.
The new collection is not missing the famous Naketano hoodies, neither. The Naketano colour-blocking hoodies are supplemented by rounder patches.
Last but not least, the collection is completed by light, waisted summer jackets made of soft polyester, as well as a partly smocked summer coat. The pleasantly soft jackets are available in three lengths (short, medium, long).
Flourishing fashion – with the Naketano summer collection 2010!