The  'bass heavy London party starters promoting warehouse raves and underground club nights' Check their event listings, get the latest news and mixes on the blog or buy tickets and Urban Nerds clothing!
'In four years Urban Nerds has risen in the ranks of underground clubbing to become one of London's biggest bass brands.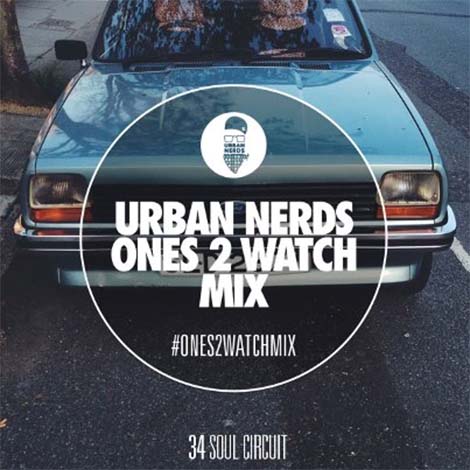 The first Nerds rave hit East London in 2007 to provide a new home to underground genres spanning dubstep, grime, electro, hip-hop, drum & bass, reggae and beyond. Nerds was one of the first nights in the big smoke to pioneer a multi-genre concept and the amalgamation of bass culture that's since been adopted across the country and infiltrated the full spectrum of electronic music. As underground British beats & blips become increasingly genre-crossing and too often branded with the 'bass' bracket, Urban Nerds maintains its position as one of the best events in the country to embrace this new dance hybrid.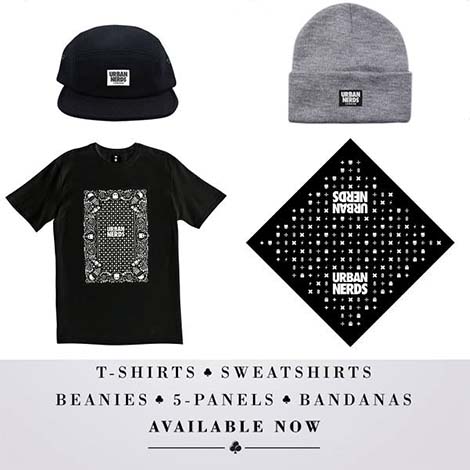 Four years down the line and the Urban Nerds count themselves part of the lucky few to have hosted room 3 at Fabric and room 2 at Matter, with a landmark Fabriclive room 2 debut in July 2011. They've collaborated on events with music moguls such as Mixmag, Time Out and the much respected DMC World DJ Championships. In 2011 Nerds returned to Europe's biggest ski and snowboard festival, Snowbombing, as an official club partner for the third year running.
In LDN Urban Nerds were amongst the first on the bass scene to take the sounds of the underground out of the club, pushing boundaries with a string of sell-out warehouse events that regularly see 1500 clubbers dub-step their way through the night in unique, mind-blowing locations. In warehouses from Shoreditch to Southwark, in dark East End basements, in iconic London venues and increasingly cross-country in Europe, Urban Nerds raves have become known for a great atmosphere, a strong and loyal crowd and an unashamed love for a plethora of bass-led party sounds. There's really no one else who's as nerdy about British underground urban music as this lot.
PAST ACTS INCLUDE…
A1 Bassline / AC Slater / B-ILL / Badness / B.A.D. Content / Baobinga / Benga / Benny Page / Blazey / Bliss / Breakage / Brooksy / Bunnington Judah / Bunzero / Caspa / Chase & Status / Chris Chronic / Chrome Kids / Circus Records / Clara Moto / Cluekid / Coki / Congo Natty / Cookie Monsta / Cotti / Crooked & Chubbs / Cutmaster Swift / Daddy Nature / David Rodigan / Deville / Dialect / DJ Blakey / DJ EZ / DJ Footloose / DJ Magic / DJ Maximum / DJ MK / DJ Q / DJ Rafik / DJ Switch / DJ Tubby / DJ Vectra / DJ Woody / DJ Zinc / Doctor LIVE / Doctor P / Donovan 'Badboy' Smith / Doorly / Dr Meaker LIVE / Drama / Dread MC / Dusty Lungs / Elijah & Skilliam / Elvee / Emcee Killa / Engine Earz Experiment LIVE / Essence / Farm Yardies / Finn James / Flirta D / Flo Dan / Flux Pavilion / Foamo / Foreign Beggars LIVE / Frisco LIVE / Gaz (Gaz's Rockin' Blues) / G Smalls / G£nuin£ Guy / Geeneus / Gerald Sidot / Goldie (Metalheadz) / Goldielocks DJ Set / Harry Love / Heny G / Hijak / Hot City / Illaman / Inja LIVE / Jack Beats / Jaguar Skills / Jay Rusto / Jayou / Jenna G LIVE / Jimmy Image / Joker / Jook 10 / Jungle Drummer & DJ Fu / Katy B LIVE / Ken Mac / Killa Kela / KloseOne / Korrelator / Kozzie / Krisby / L-Wiz / Lady Chann LIVE / Lee Brasco / Lionbeat / Little Bo Selecta / Little Dee / Loefah / Mak 10 / Mala / Mampi Swift / Marco Del Horno / Marcus Nasty / Markle / Martelo / MC Ardimann /  MC Crazy D / MC Nomad / MC Serocee / MC Sgt Pokes / MC Tippa / Men in Masks / Mista Jam / MJ Cole / Moxie / Ms Dynamite / Mumdance / Mz Bratt LIVE / Navigator / N-Type / Netsky / New Town Kings LIVE / Newham Generals LIVE / Noisses / Oneman / Ordio Kid / Papa Moomin / Phaze One / P Money / Plastician / Princess Nyah / Professor Green LIVE / Purple LIVE / Rack N Ruin / Raffertie / Random Impulse / Randomer / Ranking / RattusRattus / Redlight / Reepo / Rosco / Roska / Rusko / Sarah Love / Sarantis / Sasquatch / Savage Henry / Scandalous Unltd / Scientist / Scott Garcia / Sensless Records / Session / Shaga / Shantie / Shy FX / Sick Sense / Sinden / Skepta LIVE / Skinnyman LIVE / SKisM / Slimzee / Solarity / SP:MC / Spooky Bizzle / Spyro / Stenchman / Step:One / Sticky / Subsound / Sukh Knight / Sunday Roast / Supra1 / Taskforce LIVE / Tayo / Tempa T LIVE / Tenor Fly / Terror Danjah / The Equalizers / The Heatwave / Thunderclaps / Tinchy Stryder LIVE / Toddla T / Tomb Crew / Top Cat / True Tiger Collective / Urban Knights / Virus Syndicate LIVE / Warrior One / Warrior Queen LIVE / We Are Dubist / Weekse'