Every brand we screen print for at October is equally important, but of course we get a good feel when we get to print for iconic jeans brands like Edwin, and influential artists like Kyle Stewart,
The history of Edwin Jeans.
As always we're suckers for where it all began, for the history, so before we get into screen print, maybe sit a while and let's remember how it all kicked off for Edwin Jeans.
Picture the scene, Japan 1947, a man called Mr Tsunemi, and his love of denim. Back then denim wasn't even made in Japan and had to be imported from the US. But it wasn't available as Mr Tsunemi wanted it to be. His preference was for the broken in and nicely weathered reassurance of your favourite pair of jeans, the old faithfuls.
Mr Tsunemi wasn't going to let that get in the way, (there's no Japanese word for quit), and so he was spurred on to manufacture his own denim, at the highest quality he could muster and to his exacting specifications. After this process was refined came the very first pair of Edwin jeans in 1961. Hurrah. And four years later I was born, which is irrelevant.
The 'bloody hell that's clever' bit about Edwin Jeans were the finishing techniques, giving that beautifully knackered vintage look to a jean when first purchased. This reached its peak in the 1980's with Mr Tsunemi inventing stone washing, and thereby securing his place in the hallowed annals of denim history.
This ability to create different finishes, never took Edwin away from its understanding that the true denim aficionado, will always lean towards a selvage raw denim. Edwin Jeans have their own signature 'rainbow selvage' and as I write, I am happily breaking in the shrink to fit variety. I do this by riding wild horses at my ranch in Montana, or by standing at the bus stop in the rain.
On the subject of how to wear and care for high end denim like Edwin (or Carhartt), the main advice is don't wash them, unless you've had the most serious of nights out, stopped off at Iffy's Kebabs, and followed through. The received wisdom is to pop them in a plastic bag once a month, and leave them in the freezer overnight. Hang them out to thaw the next day, and all the bacteria will have been nuked. Usually best done without informing wives and girlfriends, who have been known to find such behaviour ridiculous.
Kyle Stewart for Edwin Jeans, and some of that October Screen Print.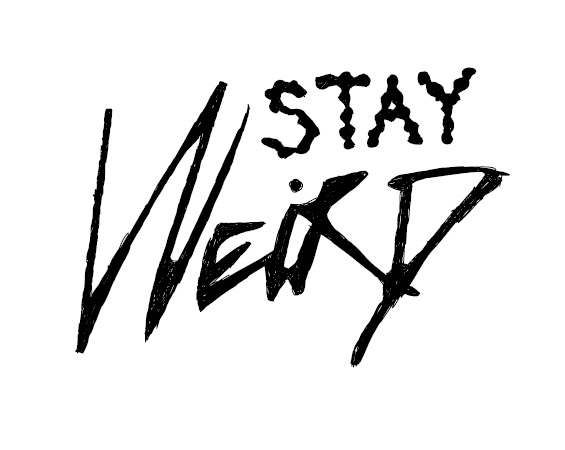 Fast forward to the present day – Kyle Stewart is the brainchild and co-founder of East London retail lifestyle gem, Goodhood, and was invited by Edwin Europe as a guest artist to work on a variety of youthful and rebellious graphic prints for Spring/Summer 2017. Let's quote Edwin Jeans for this next bit – I think they've nailed it.
'The first in the series is entitled 'Stay Weird', and includes a selection of six double-sided, hand illustrated artworks based on the dark and often funny world of sub-culture B-movies. Kyle's taste and influences are heavily inspired by his interest and love of all things DIY, punk, skateboarding, counter-culture, art and lifestyle. This monochromatic mid-season drop, expected to arrive in stores in April comprises of a concise collection of black and white heavyweight tees, along with a variety of punk pin buttons and classic canvas tote bags'
October didn't make the pin badges, but we did screen print the heavyweight tees and the tote bags for Edwin Jeans, for Kyle Stewart, and deep deep down, for Mr Tsumemi.