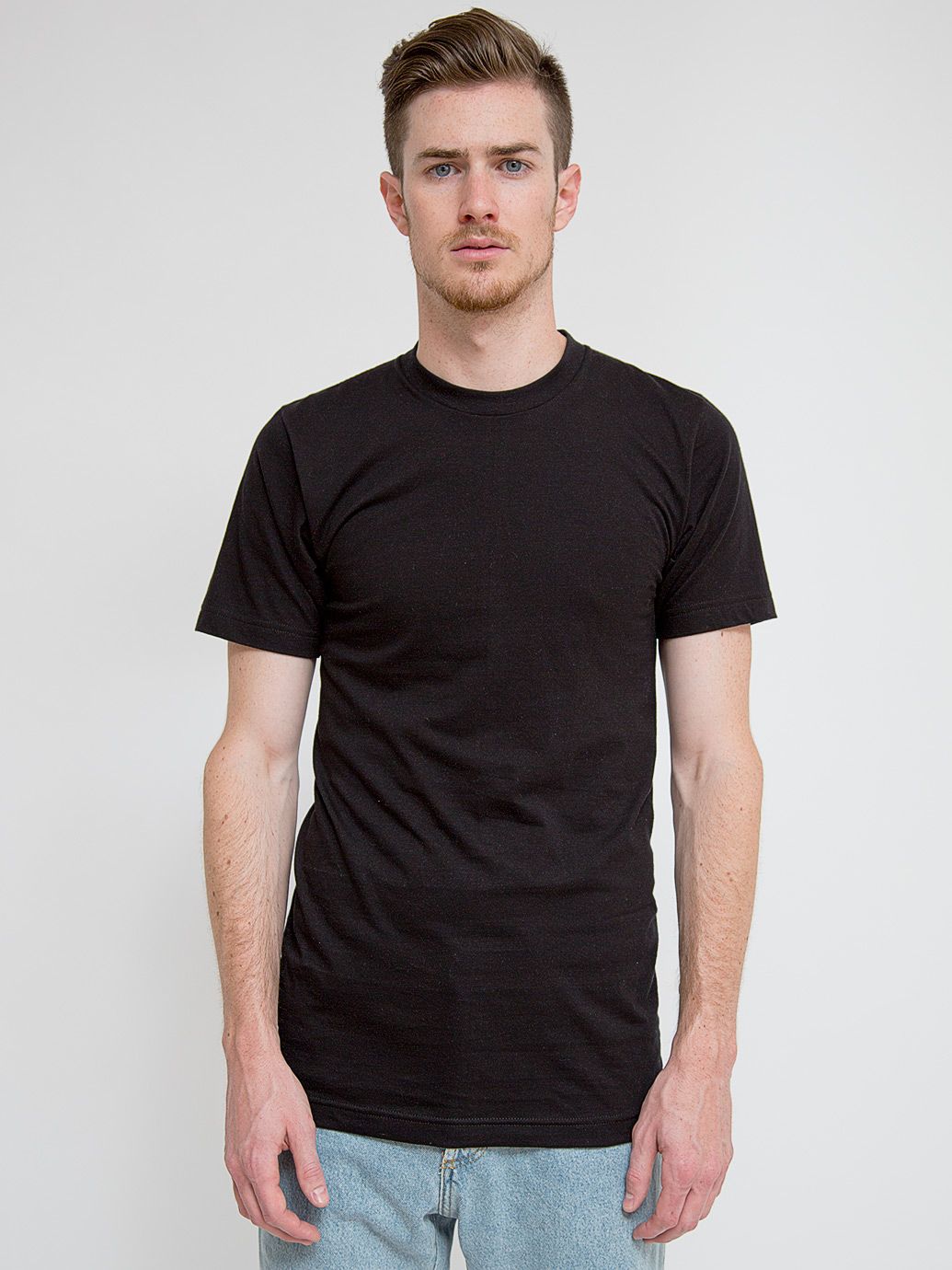 For all you lanky Herberts out there, tired of flashing your bum crack off to innocent bystanders.
the same soft feel as the classic American Apparel 2001 100% cotton fine jersey classic, but what's the technical term…it's…longer.
You know the American Apparel look, like you've just regained consciousness from under a pile of coats at a bad party.
So get yourself all draped up, and remember not to stand in any strong winds.
Also see other American Apparel  T shirts by October.
American Apparel Fine Jersey – Short Sleeve T-Shirt
AA make some big claims about this fine jersey short sleeve T-shirt – we haven't got access to their secret stats, but we'd have a tenner on the fact that this is their best selling T, and rightly so. Fine jersey again, we all like that, and so it'll print like a dream. To some, the 2001 is the definitive range T-shirt, LA or nothing.
Fine Jersey – Long Sleeve T-shirt
There was a time when for most people good meant heavy – those bad times are behind us. This long sleeve jersey T-shirt fabric is fine…and that's just fine by us. Prints up a treat, lets the summer breeze blow straight through you.
Please note there is a £15 delivery surcharge as these garments come direct from LA.
Fine Jersey – Short Sleeve Leisure Shirt
Take your leisure time seriously, with this 70's inspired 100% fine jersey 4 button shirt. It's got a front pocket that you'll never use, but that looks good none the less, but what's the best bit…yes you at the back… yeah you got it, the structured collar that hangs together after a load of washes. This is what puts the American Apparel polo at the top of its class…that and the colour range.
American Apparel by October.