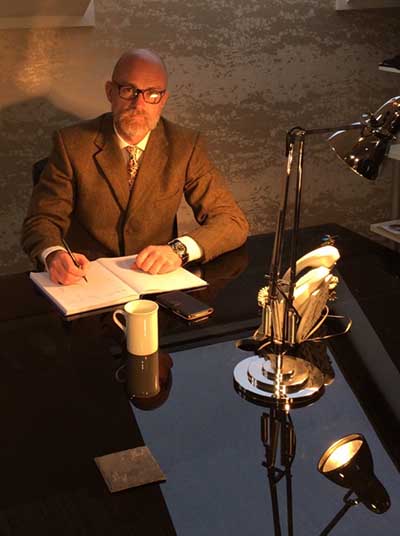 In spite of an allergy to truffle oil, coffee shop anxiety over what will happen if we order a 'skinny ginger', and a tendency to slap anyone uncertain on the correct use of 'please', 'thank you' and 'excuse me', October Textiles have opened a London Office, on Lots Road in Chelsea.
London customers visit the October factory most days, and there is no substitute for a good look at the full production facility when working on a new collection, but we understand, that getting trapped in the road network may mean you never see your family again; a train may require a re-mortgage to get you three stops down the line; and in the absence of a helipad at our Nottingham HQ, we sometimes need to come to you.
This will enable us to cover all the important considerations at the outset.
What is the brand story?
What will be the consistent graphic delivery values of that story, that enable us to create a recognizable, signature look?
Will we be heritage, or contemporary, street or couture?
How will we make our collection 'look like a proper brand'?
Where will we market our range, and to whom? Internet, wholesale, or retail?
In a hugely competitive market place, do online sales generate good return for SEO investment?
How long do those sales take to realize?
Is wholesale a viable option, are independents supporting new brands?
Should we work towards opening our own store?
And how do we fund all of the above?
These and many more questions can be quietly considered at the edge of Chelsea harbour, before we then move onto the production detail…165 or 185 gram jersey fabric, loop fold, end fold or hot cut labels…a high definition badge, screen print or digital, water based, solvent based or discharge ink…and what about swing tickets, and packaging?
If that sounds of any interest, then we look forward to seeing you smoke side…you'll know it's us, we'll be drinking English Breakfast Tea.
Address: October textiles, Unit 13, 92 Lots Road, Chelsea, London, SW10 0QD
Screen Printing, Embroidery & Fashion specialist, London
www.october.co.uk
info@october.co.uk