We'd admit to being more knowledgeable on Snap and Gin Rummy than high stakes poker, but when Redbet Online Casino approached us to produce their embroidered caps and screen printed hooded sweatshirts, it was a very welcome challenge.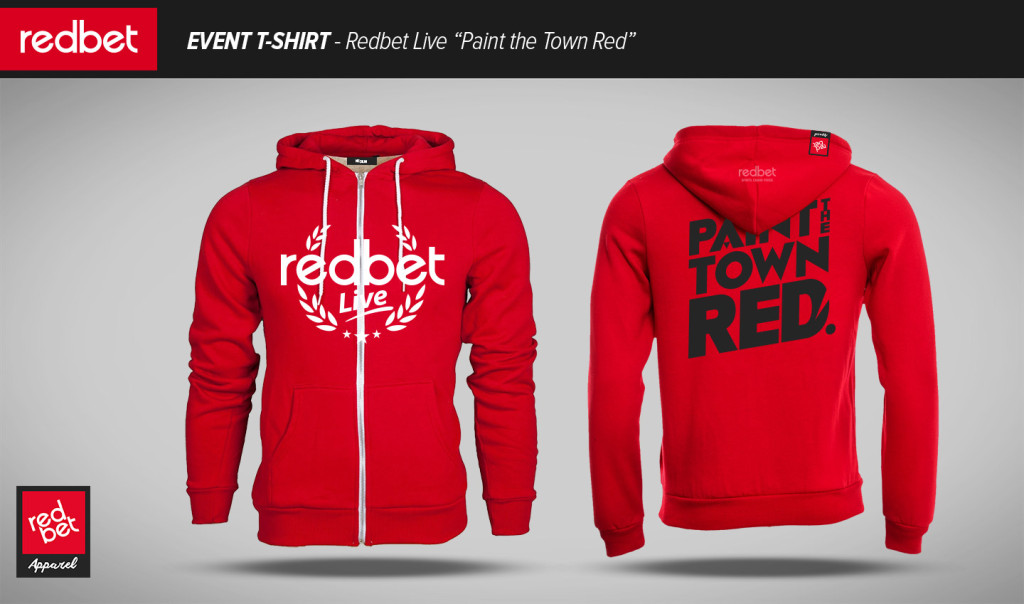 Redbet started their business in 2002, launching their online casino in 2004. They have subsequently established themselves as one of the top gaming websites on the European market. They offer a variety of gambling options, with poker, casino games and sports betting. Immediately apparent was the simplicity of their website, unlike many of the alternatives which have enough flashing banners to make you wonder if you need to gamble, or start dancing. As such it was only right that their embroidered caps and screen printed hooded sweatshirts, were equally simple and clean. But the level of quality they required, meant that we were able to go the extra mile.
Screen printed hooded sweatshirts.
Challenge number one, was that they wanted a high build white ink, screen printed across the zip of hooded sweatshirts. This would be highly unwise to attempt with an off the shelf garment – the ink would spread over the zip and look untidy. So a full garment manufacturing process was the way forward. The hooded sweatshirt needed to be a heavy bright red fleece, so 400 gram fabric was used. Panels were then cut prior to manufacture, meaning we could screen print the design first onto one flat panel, and then cut that down the middle to insert the zip. This means that the print fits neatly into the zip seam. Redbet specified a wide calico cord for the hooded sweatshirt, back neck labels and high definition woven hem tabs. These were all added to give the finished garment a high end retail look. It goes without saying that as usual, our hooded sweatshirt featured a straight cut body and sleeve, with wide cuff and hem seams to give a clean line and a tailored finish. (Why do we say 'it goes without saying', and then say it – will have a think about that one).
Embroidered caps.
Challenge number two, was that Redbet wanted red, New Era quality, flat peak snap back embroidered caps. They required a high build 3D front embroidery, woven hem tab, inner Redbet printed taping, and last but most importantly, the red of the cap, needed to match the red of the hooded sweatshirt! This meant that we needed to get the red twill of the cap right first, and then lab dip the fleece fabric of the hooded sweatshirt until we were happy that the dye colour of the two fabrics matched. Once we were happy with that, we could get to work laser cutting the foam which sits behind the embroidered cap logo, to lift it up, and give it a 3D feel. Inner tape was printed with the Redbet logo text, high definition woven labels stitched over the seams, and there we go – clean, minimal punchy graphics, onto a retail quality finished product.
It's fairly regular, but not every day that corporate customers show this attention to detail when making a cap or hooded sweatshirt. So although we don't profess to take any bigger gambles than running a screen print and embroidery business, we can quickly assume that should one want to gamble responsibly, that www.redbet.com is a fun, safe, and professional place to be.
Hopefully our embroidered caps and screen printed hooded sweatshirts for Redbet Online Casino, not only look at home in a high stakes gaming room, but would also stand up as high end retail pieces.