We rarely think Carhartt workwear, or indeed Dickies workwear when these brand names pop up. But I was reminded of their workwear heritage when looking at a recent project for Edwin. My old friend the legendary stylist Dean Webster popped in recently, on a brief stop off between Berlin and Japan, as you do. We needed to chat about a jersey project for Edwin Jeans in collaboration with the Goodhood store in EC2 – better outlets, there are few. Lovely artwork, scratchy, hand drawn….don't know about you, but I'm always up for a wander away from the digital. And when Dean said he needed the fabric to have that dry, carded, Japanese feel, we all immediately think of an old school Champion T, and realise we really should get out more often – which we probably will.
It was supposed to be a flier, but business done and in spite of us both being late for some other place, the Japanese Peace cigarettes (medium tar with peace flavor) came out on the loading bay, and a couple of old fashion lags had to start talking about workwear heritage, didn't they? Well yes. They couldn't help themselves.
Carhartt workwear.
There are enough kids walking about in Carhartt T-shirts, and no doubt they'll definitely know all about their workwear history. But in case they're just wearing a word because it makes them belong for a moment (while actually knowing eff all), let's remember that Carhartt, founded in 1889 and now based in Dearborn Michigan, were primarily known for their workwear.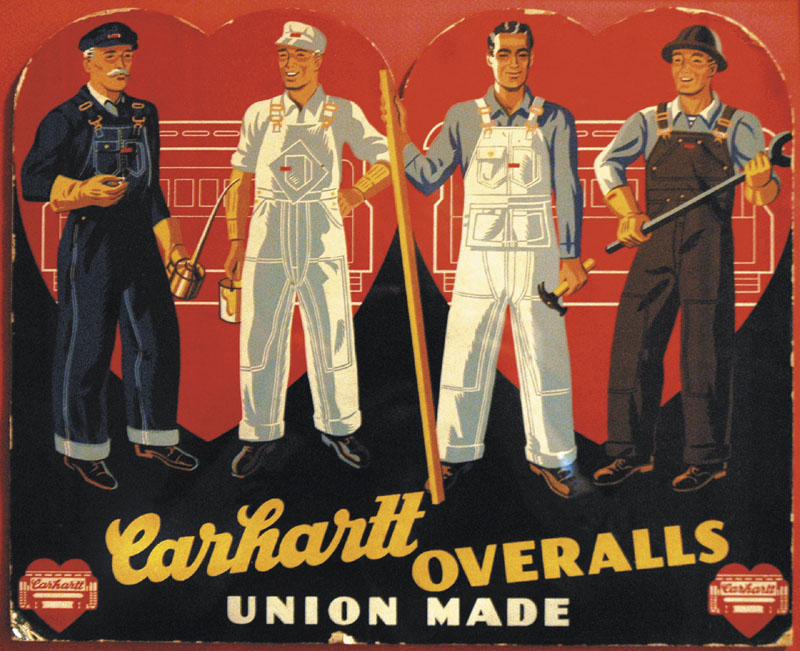 This comes from their original days in Motor City, making workwear for the railroad workers, who needed almost dynamite proof overalls when blasting through those mountains and making their way West. The amount of beans they were eating also meant the need for heavy duty threads, and rivets at those special stress points. Back then, there was probably as much chance of blowing a hole in your jeans as there was the side of a hill.
Dickies Workwear
Just like those Carhartt T-shirts, we also see a fair few Dickies T shirts wandering about our modern streets, but let us spare a thought for that early Dickies workwear, and the Williamson-Dickie Manufacturing Company; originally an American institution of course, out of Fort Worth Texas.
But in the really early days, Mr C.N. Williamson and E.E. "Colonel" Dickie kicked it all off in the "vehicle and harness" business in Bryan, Texas. Way back in 1918, along with a few mates they set up the U.S. Overall Company – and guess what they made? Then by 1922, a certain C. Don Williamson joined with his father and cousin, buying 100% of the overall company on a one-third-each basis, and called it the Williamson-Dickie Manufacturing Company.
'Dickies' workwear grew steadily, with a few blips around the Great Depression (now known as losing your mobile phone), and then of course they went on to produce millions of uniforms during World War 11.
October Textiles
October Textiles has always been a fashion based supplier. But looking at the continued influence of workwear, the lumberjack flannels, chambray shirts, raw denim, work boots and endless pompadour haircuts, is it time we merged our fashion and workwear heritage?
I think I'll ask Mr Webster, and he'll say good plan. So feel free to call us for your Dickies workwear….and of course your Carhartt workwear.